I'm feeling a lot better today than I have all week. It's Friday, I have plans to take a day trip tomorrow and explore new things, and I get to spend time with Mr. Phoenixx. Life will be good this weekend.
I also received a package yesterday I have been eagerly awaiting for all year! Last summer I backed a Kickstarter for one of my favorite webcomics and purchased the first 2 volumes. Due to COVID and reoccurring lockdowns, production got delayed several times which evidently delayed shipping too. But it's finally here! And since the Kickstarter raised so much money, I got a whole bunch of goodies as an added bonus!
(Only thing not pictured is the 6 slightly NSFW bookmarks that also got added. No I didn't order them, but I'm definitely not complaining.
)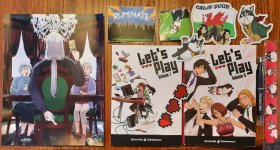 The coworker I hate working with (that I thankfully don't have to work with yet, just interact with for a half hour between shift changeover) that always talks so condescendingly towards me talked to me last night. Apparently I've been leaving work for her to do. I didn't know. I get so focused on the major things that need to be done that I didn't realize I was leaving little things. She told me not to even bother doing any paperwork until my work is done. I was under the impression it HAD to be done regardless, but I guess that's not the case. "I don't want you to do any of the crosschecks or calibrations or any of that paperwork until you finish your bottles. Because you know, we have to get all our work done first." I don't fucking get it. I don't fucking understand why people need to talk to me like this.
Last night I ended up working with one of my forepersons. I don't get to work with her often, as she only works in the lab when there's coverage needed and no one else can do it, but I really like working with her. She's around my age, super friendly and easy to talk to, so I felt I could easily confide in her over what happened. I had anxiety all day yesterday all because of this stupid occurrence. I feel dumb for letting my emotions get to me, but I also have to remind myself that I'm still in a very new environment learning new things everyday, including the social culture -- which by far is so much harder for me to figure out than running any sort of equipment, tests, or logging any kind of data into numerous programs and Excel sheets. The setting is unlike anything I've ever worked in and given my history of working in places with shit management where coworkers have to fend for themselves, I shouldn't kick myself for feeling the way I do: scared, anxious, upset, and pissed off.
I first went about the conversation asking about doing certain things prior to shift changeover, because I was under the impression certain things absolutely had to get done, but that wasn't the case. She then further asked me if someone had talked to me about it and I told her what happened. She was pretty surprised and asked me if any past situations happened with said coworker and if any of these things happened in front of another foreperson or anyone else. I told her she's always talked to me alone and she has continuously been condescending towards me because of how I believe she feels towards me being on 2nd shift and her on 3rd shift. (Long story short: Apparently she was supposed to have my shift; according to her she got brushed over purely for me and her seniority should've been a deciding factor. It doesn't make sense and my foreperson also said that there was another reason for sure why my supervisor chose me for this shift when I asked if it was still available. I have a feeling it's because of 1) my background in quality control and 2) quick learning capabilities) She reminded me that I should never feel afraid to open up to her or anyone else in her role if I ever have a problem. What that coworker said was uncalled for and she told me she should have never said anything of the sort to me at all. Anything she feels I'm doing wrong or has a problem with should never be brought up to me, but to a supervisor so the supervisor can sit down and have a talk. And here, when they say talk, they actually talk. I'm used to getting shit on when things don't go right or if I make a mistake. I'm so used to being reprimanded that I'm always scared and get upset if I do something wrong. Not here. If someone screws up, it becomes a learning point and people get talked to about what they did wrong and how to correct it and make it right. I'm definitely not used to that culture and I often forget that's how it is here. Since I haven't interacted with management often, I overlooked their approach to things and I assumed the worst in this situation. (Thanks anxiety) I'm extremely thankful having such great management in my place of work and I'm going to remind myself to not be afraid to speak up anymore. From here on out I'm just going to worry about my work and nothing else. As long as my stuff is done, I'm in good standing. She can't complain if something doesn't get done that's technically carrying over into her shift.
I told my foreman not to tell my supervisor yet though, who's currently on vacation. I want to play this out and see if this coworker says anything else towards me. Guaranteed she will, but I'm going to let it build up. Now that I know I have someone else on my side, I want to see where this will go and just play the game. I did think about channeling my inner Jim Halpert and doing small stupid things that might piss her off -- like putting her bumpcap on the highest shelf in the cupboard (no one would know it was me, I'm the shortest one there.
) so she has to go way in the back in the storage room to get the small ladder in order to reach it or placing her gloves in a new location in the cupboard every day. I might still do that every so often, heh.
P.S. - With my anxiety the way it's been recently and for the past year, I'm seriously considering scheduling an appointment with my doctor to look into starting medication. I haven't fully decided how I want to go about this, whether I want to go back into therapy or not as well. I'm still going to think about it further and I want to research medications to ask about if I do go see my doctor.