hello,
im practicing and testing energy psychology methods since 7 years. i did ALOT of research and testing so please dont consider me a quick-FIX TROLL.
With the method "the neurovascular hold" you really have the chanche to shift things so be sure to have a professional approach to this method, it really works.
you dont have to believe in it, dont have to stay positive.. just feel the stress/anxiety/fear/terror and hold the points. it will wipe out stress!
First i want to quote from a energy-psychology book how it describes stress/fear/anxiety/terror responses:
"your stress reactions are physical responses. when you emotionally "lose it", your reaction has more to do with physiology than psychology. The daily stresses of life trigger your primitive brain centers into an emergency response, up to 80 percent of the bloodcan leave your forebrain, stress chemicals pour into your bloodstream, primitive stress emotions sweep over you, and you proceed through another challenge of modern civilized world with the biochemistry of an early anchestor in mortal danger. Your perceptions become distorted. Your capacity to repond creatively or even appropriately is compromised. realizing these dynamics alone can allow you some extra compassion for yourself and others"
Now, this method works with neurovascular points situated on your head and chest. pressing these points keeps the blood flow to your brain and makes the stress response collapse! its like reprogramming the stress response! once collapsed it wont come back.
OK here the method:
preparation: drink some water
1. tune into a stress/anxiety/fear/terror you are already feeling or focus on a stressful thought, memory, or situation.
rub the sore spots for some seconds: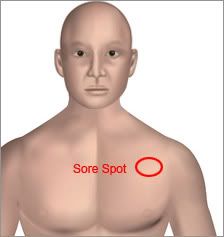 2. still tuned in hold the main neurovascular points: place your thumbs at your temples and the pads of your fingers on your forehead, just above your eyes for some time 2-3 minutes while breathing deeply
2.5 RUB SORE SPOTS
3. now still tuned hold the main points on the forehead with one hand and the "triple warmer" points situated on the chest just at the beginning of throat with the second hand for appr. 1 min.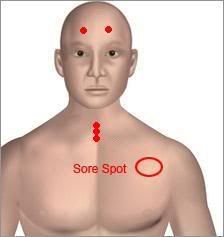 3.5 RUB SORE SPOTS
4. Go through all other neurovascular points while still tuned in and still holding the main points with one hand (feel free to exchange these points and feel which are best for that problem)
side of eyes
under the eye
top of head
back of the head (hold with the hand the back of your head)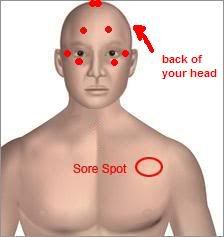 DO the technique till you collapse the problem completely. most times there are some remaining specific aspects of the problem which you have to focus on and collapse. Handle them till you feel freedom and at peace in that situation/memory/thought.
Thats it!
feel free to make questions